About the THETA Dream and Build Developers Contest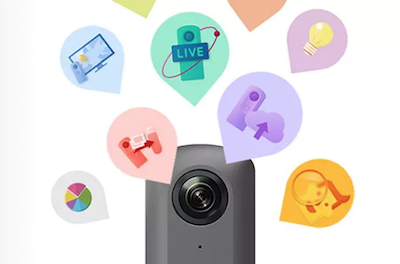 Overview
The "Dream and Build" Plug-in Developer Contest was held Spring 2019 with the goal of taking a RICOH THETA Z1 / THETA V 360 degree camera and customizing it.
The RICOH THETA V is an Android-based camera with an open architecture that allows building your own programs and installing them in the camera to completely customize functionality. Companies in a wide range of industries like Construction, Real Estate, Used Car Sales, Virtual Tours/Tourism and many more have based their products and services on customized THETAs.
The contest was aimed at Android developers who have a RICOH THETA Z1 / THETA V camera.
Participants got a chance to use a fantastically fun and useful 360 degree camera, improve their skills, win prizes, and most importantly have a lot of fun!
Prizes
All entrants had chances to win cool Prizes like an HTC - VIVE Pro Headset, a DJI Quadcopter drone, an Android tablet, and lots more! There were four different categories: Most Innovative, Most Practical, Most Inspiring, and Judge's Freestyle. 12 winners in total were chosen.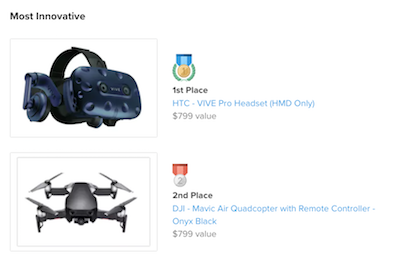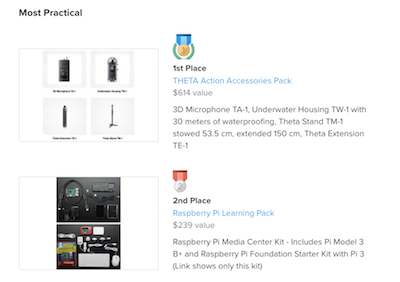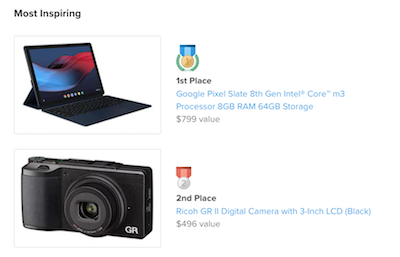 Judging Criteria
There were three criteria stipulated in the Rules.
Project Documentation (34 points)
Story/Instructions - Show how you created your project, including images, screenshots, and/or a video demonstration of your solution working as intended. Ask yourself: "If I were a beginner reading this project, would I understand how to recreate it?"
apk Submission (33 points)
Functional Android Application Package (apk) must be submitted to the THETA Plug-in Store by the contest deadline.
Creativity (33 points)
Your idea doesn't have to be original, but it should be creative (a fresh take on an old idea is often worth as much as a brand new idea).